[ Help Home ] [ > ]
---
Recently new bioinformatics tools and servers are emerging explosively along with the great amount of biomedical experimental data generated every day. Installation and maintenance of many different software tools are difficult, time-consuming and often expensive. Therefore, because of potential returns of efficiency in bioinformatics research community, it is always meaningful to provide a multifunctional platform to integrate diversified tools with unified, user-friendly web interface.
The aim of WebLab is to provide a ¡°one stop¡± bioinformatics web environment for both wet bench and in silico scientists working in biomedicine community. End users can not only use plentiful diversified tools for bioinformatics analysis, but also gain considerable advance in research efficiency through powerful data management function, group strategy and knowledge sharing mechanism in WebLab.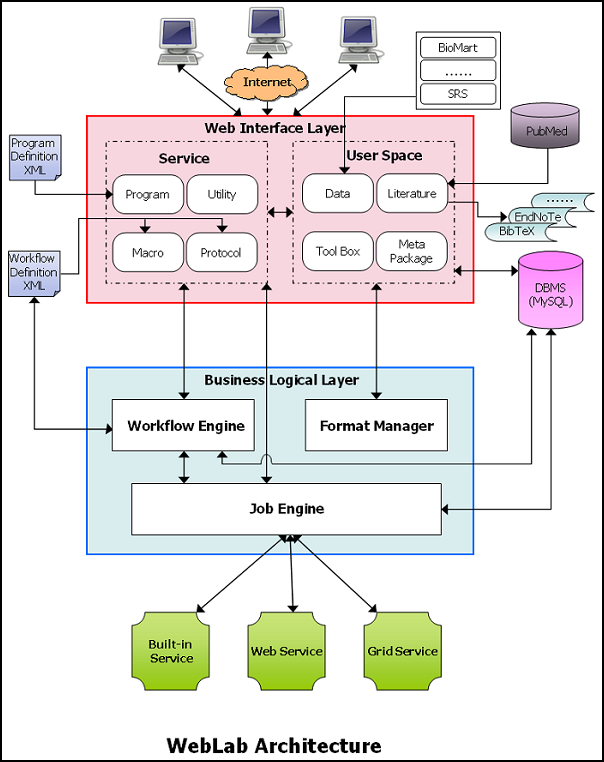 The architecture of the WebLab system has a layered topology using proxy model. The portal server has a user friendly web interface and act as a proxy to accept all users¡¯ requests. It is mainly made up of two layers respectively in charge for user interface displaying and business logic handling. Several computing servers have dispatch daemon running on them, which will execute the required program after accepting the request from the portal server. The result will be sent back to the portal server after the analysis finished and saved into backend database maintained on portal server. Generally speaking, users can regard WebLab as a loosely coupled distributed system.
---
[ Help Home ] [ > ]